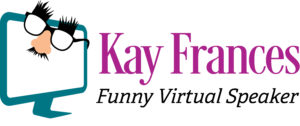 Well, the most obvious answer is that one is in person and the other is over the computer. But, there is more than that.
I'm been a Funny Keynote Speaker for over 15 years. When the COVID-19 pandemic hit, I quickly switched to presenting virtually. Much of what I do is the same in terms of content, but the medium in which I deliver it has changed. So, what does this mean?
Live conventions are very exciting. People gather and share something in common, usually their professions. There are events and networking, meals and galas. The exhibitor hall alone is worth the registration fee! Not only do attendees get the latest information from vendors in their field, but they get to go booth to booth, gathering up the swag like an adult treat-or-treater. It's fun! And, there is something very special about the collective, shared experience of a live event. Plus, energy and laughter are contagious. We have all experienced seeing a live show as opposed to watching something by ourselves in front our TV or computer. We don't laugh nearly as much when it's not live.
So, I knew it might be a bit of an uphill battle to present online and forego the laughter. After all, before I was a Funny Keynote Speaker, I spent years as a professional stand up comedian. I was definitely concerned about how it was going to translate. Still, I have a lot of content about managing change, uncertainty and the unknown. So, with the use of slides and some fun virtual effects, I learned how to give an engaging Funny Virtual Keynote. My sessions are engaging and entertaining, but with solid content to help people cope with these crazy times. I don't get to "hear" the laughter, but I'm getting excellent feedback from attendees and the virtual planners about how much they are getting out of my Funny Virtual Keynotes. And, they are enjoying themselves! This warms my heart because I know that everyone is struggling with something these days. No one is exempt from the many changes we have experienced this year. If I can do something to relieve their pain a bit, then I feel what I am doing is worthwhile. Maybe now more than ever, people can benefit from one of my Funny Virtual Keynotes. Who says you can't laugh while sitting at your computer in your yoga pants (or less)? I do it all the time!
So, until we are all back gathering for in-person events, virtual is not a bad alternative. Although, I have to admit, I DO miss the swag.
Tags: Funny Virtual Keynote Speaker