Caring for the ages VOLUME 24, ISSUE 5, P13, JUNE 2023
"Humor and Health Go Hand-in-Hand"
By Joanne Kaldy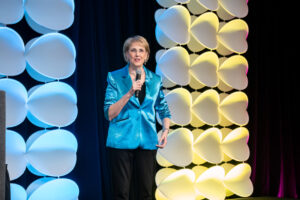 "Managing stress takes day-by-day, moment-by-moment vigilance," said author, speaker, and comedian Kay Frances, MBA, at the opening general session of PALTC23, the Annual Conference of AMDA – The Society for Post-Acute and Long-Term Care Medicine. She added, "It also requires a sense of humor, a light heart, and optimism. No pessimistic person ever survived the stress of being a long-term care practitioner without losing their mind."
Ms. Frances shared laughs with her audience, stressing the value of humor in the workplace even when times are tough. However, she noted that this doesn't mean that we should be eternally optimistic and laughing all the time. "Optimism needs to be tempered with realism. Negative emotions are part of the human experience." She suggested treating these negative feelings like "visitors": they are here "to teach us something, then they move on."
At the same time, she observed that optimism takes some work. "If you want to look for bad news, you'll find it in five minutes," she said. Starting the day with optimism sets the tone for the day, Ms. Frances suggested. "You can have a five-minute huddle with your team in the morning. Ask everyone to share some good news or talk about something they like about their job. This is a way to raise people's spirits as they start their shift."
Throughout the day, she suggested, "keep your humor antenna up. There are opportunities to laugh all the time."
Ms. Frances knows from experience the role of optimism in caring for people. She was a caregiver for her mother after her father passed away. She said, "Humor and optimism got us through it … that and lots of Scrabble."
People Who Need People
One source of stress, Ms. Frances noted, is other people. "They're everywhere," she said, adding, "We can't control others but are in charge of how we react to them." At the same time, she said, "It is important to avoid 'energy vampires.'" For instance, consider taking a break from watching the news, and refuse to go down rabbit holes on social media. "No one is happy all the time, but we can't let ourselves be dragged down by things you can't control," she said. She added that venting and commiserating with others can be healthy until "it begins to drag you down and not serve a purpose." At the same time, whenever possible, avoid toxic or negative people who bring you down and challenge your efforts to be optimistic.
Of course, interacting with others is essential, so Ms. Frances suggested looking for the good in others. "People can't hear 'thank you' enough, but recognition needs to be personal," she said. When possible, she said, refer to something specific someone did that made a difference.
Knowing when humor is and isn't appropriate is key, and this is something health care practitioners understand. "You need to know your audience. At the same time, you need to take the lead from others," Ms. Frances said. For instance, if a practitioner is having a serious conversation with a patient and the person makes a joke, it is important to let them express their feelings in humor. This may be how they cope, and you need to be empathetic and supportive.
Tags: Funny Keynote Speaker, Funny Motivational Speaker, Funny speaker healthcare, Motivational Humorist, Stress Management